FLOTHERM热仿真软件帮助Philips创建了同类产品中第一个
日期:2012-06-20
FLOTHERM Thermal Management Software Helps Philips To Create The First "Virtually Silent" Multimedia Projector Of Its Kind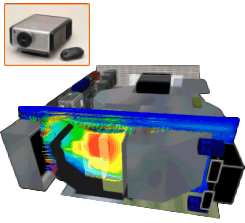 February 1998
Flotherm thermal management software from Flomerics has received acclaim from Philips Creative Display Solutions for the major role it has played in the development of the Hopper SV10 - the first virtually silent multimedia projector of its kind, designed for front projection presentations in small meeting rooms, where noisy cooling fans are the norm.
Using Flotherm to determine the air flow, heat transfer and temperatures within the projector, Philips Engineers were able to optimise the location of critical components and to create the Philips Air System (PAS) - a system designed to offer "the coolest layout possible". They placed the lamp - the component dissipating the most heat - at the end of the air-flow chain, so that the hottest air was blown straight out of the unit and not over the PCBs, etc.. A microprocessor, designed to continually read the signals generated by the temperature and flow sensors, was then installed to control the speed of the fans accordingly. The correct volume of cooling air could thus be delivered exactly when and where it was required.
Thanks to this new layout, the fan noise which can often be a major distraction to listeners, is virtually undetectable - operating at just 33dB(A), the noise emitted from the projector is comparable to that of a human whisper - four times lower than its closest competitor.
Featuring Philips' 120W Ultra High Performance (UHP) Lamp, the Hopper SV10 delivers a light output of 600 ANSI Lumens with a lamp life of up to 4000 hours. The UHP Lamp causes no hot spots and gives consistent brightness and accurate, natural colours. This, combined with its complete compatibility and connectivity, makes the projector a highly versatile and portable product.
For further information, please contact:

Mike Reynell
Director of Marketing
Flomerics Group PLC
81 Bridge Road
Hampton Court
Surrey, KT8 9HH
UK

Tel: +44 (0)20 8487 3000
Fax: +44 (0)20 8487 3001