使用Flotherm软件Pipinghot网络公司节约了3个月的研发时间
日期:2012-06-19
Pipinghot Networks Knocks 3 Months off Development Time Using Flotherm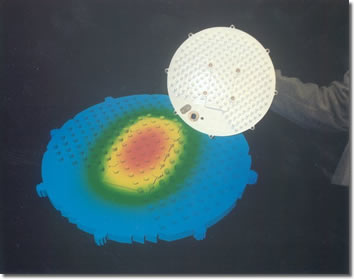 August 2001
PipingHot Networks, developer of broadband wireless access equipment, has slashed 3 months off the development time for a customer subscriber unit by using Flotherm thermal management software from Flomerics. In the fast-moving world of broadband access, just saving a few days can be important.
PipingHot Networks broadband wireless access equipment provides companies with access to the Internet and the ability to transfer large files without the need for cabling. The firm's new subscriber unit must work in temperatures ranging from -40 to +60degC and is normally installed on the outside wall of, say, an office. This can be anywhere in the world.
"In various parts of the world this unit must withstand temperatures of nearly -40degC, in the Arctic for example", said Clem Fisher, RF Manager for PipingHot Networks. "It will also be installed in hot climates, sometimes in direct sunlight."
The unit is cooled by natural convection and there is no room for fans or other cooling mechanisms apart from a heatsink. It was in the design of this heatsink that Flotherm proved so valuable. The radio transmitter is bolted directly to the heatsink and the whole assembly is encased in a plastic enclosure for environmental protection.
"We used Flotherm to examine the temperature rises for different heatsink designs", said Fisher, "and to optimise the efficiency of fins and pins. We settled upon a large 14" heat sink featuring cylindrical pins."
Using Flotherm, PipingHot Networks created simple models of the unit and tried a number of different arrangements before running full-scale models of the most promising designs.
"Without Flotherm, we would have had to build a large number of heatsinks", said Fisher, "then put resistive loads on them and measure the temperature rise. One thing that Flotherm highlighted was that there was some airflow stalling in our design, which would have been difficult to find out without Flotherm. The design was quickly modified to solve this."
Fisher estimated that, without Flotherm, it would have taken the company nine months to design the assembly, which it has completed in just over six months.
"The Flotherm simulations gave us a lot more confidence to go and get castings made", concluded Fisher.
For further information, please contact:

Mike Reynell
Director of Marketing
Flomerics Group PLC
81 Bridge Road
Hampton Court
Surrey, KT8 9HH
UK

Tel: +44 (0)20 8487 3000
Fax: +44 (0)20 8487 3001